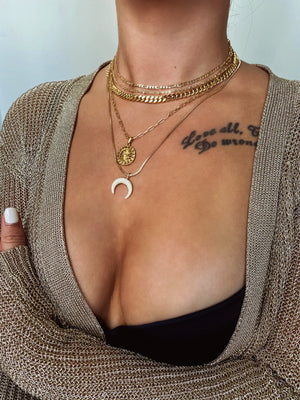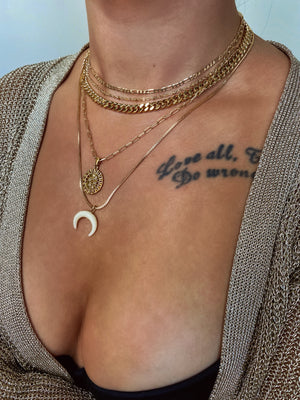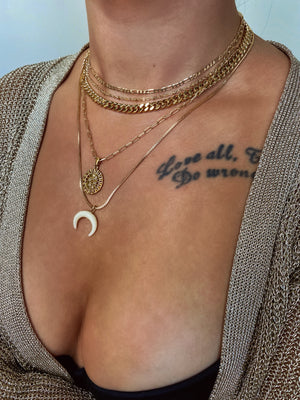 LIANNA
LIANNA
FIVE LAYERED HAND MADE NECKLACE, ALL 18K GOLD PLATED CHAINS OVER BRASS. THE TOP CHOKER IS THREE LAYERS AND ATTACHES IN THE BACK AS ONE WITH EXTRA CLASPS ON THE END FOR ADJUSTABILITY IN LENGTH- LAYERS RANGE FROM 14" TO 15" LONG.
BOTTOM TWO LAYERS ATTACH IN THE BACK AS ONE, BOTH FEATURING CHARMS ON EACH CHAIN. THIS ADDS VERSATILITY TO USAGE OF THIS ENTIRE COLLECTION, DRESSING IT UP OR DOWN WITH ALL FIVE LAYERS OR CHOOSING TO WEAR THE TOP CHOKER OR BOTTOM TWO FOR A LIGHTER LOOK
ALL PIECES HAVE BEEN E-COATED (ELECTROPHORESIS PLATING) E-COATING PROVIDES AN ADDITIONAL BARRIER WHICH ADDS LONGEVITY TO PRODUCTS ENSURING IT LASTS LONGER WITHOUT TARNISHING.
HANDMADE